Smart Specialisation in Oulu Region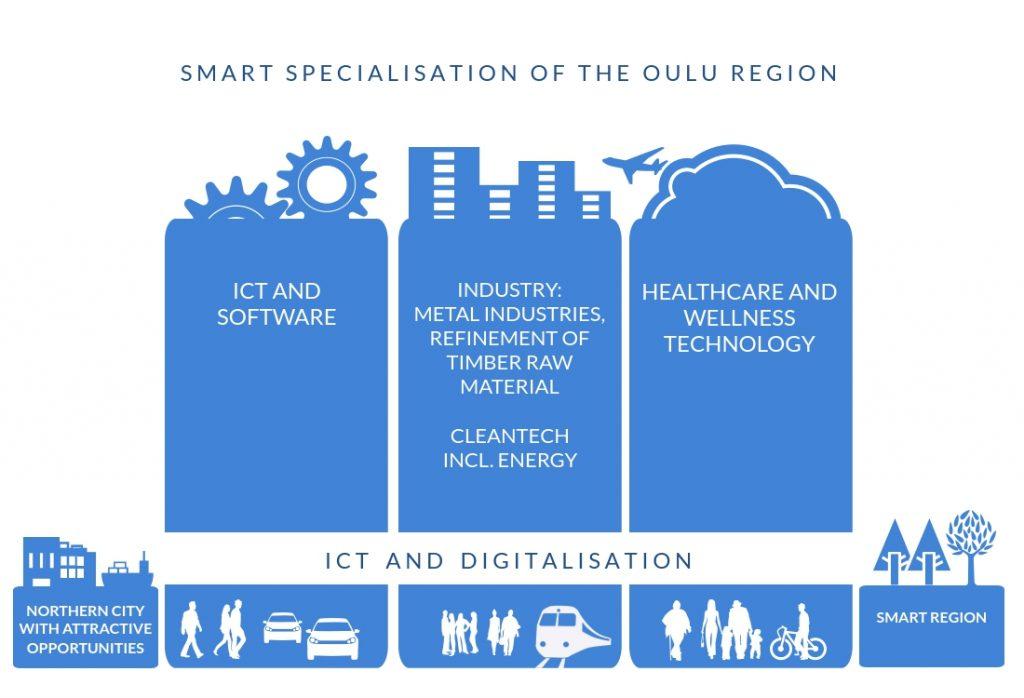 The strategic choices for smart specialisation in Oulu Region are the strongest sectors in the province, based on high know-how, employment and turnover: ICT and software, metal industry for basic industry, wood raw material processing and clean solutions, and health and well-being. ICT know-how and digitalisation are utilized across traditional industry boundaries, connecting areas of expertise. Specialisation relies on emerging research and innovation strengths and their utilisation in business development and employment.
The innovation system of Oulu Region supports and renews the province's economy and know-how. There are two key dimensions in the development of provincial innovation activities: development and innovation work that renews local business activities, and innovation activities based on strong research know-how that produce new information and applications. In both cases, the broad participation of companies and internationalisation will be promoted. Innovation activities based on regional specialisation support business growth, increase productivity and promote employment, supporting the positive development prospects of the whole province.
The aim is for the actors in the region to make use of international cooperation networks and European initiatives to promote the smart specialisation of the province. The smart specialisation of Oulu Region is also supported by the Structural Funds in regional decision-making in accordance with the objectives of the Structural Funds program. The selected priority areas are strongly involved in the operational strategies of the various actors in the province. The Oulu Innovation Alliance is a key network that facilitates operations.
The smart specialisation strategy for Oulu Region is part of the regional program; no separate strategy has been prepared. The focus areas for smart specialisation will be presented in this Power Point presentation. The presentation is freely available. The brochure for Oulu Region's Smart Specialization can be found HERE.