Smart specialisation is a regional innovation policy, where the region identifies its strengths and areas for development. With the help of these strengths, regions stand out from others and thrive.
The goal of smart specialisation is to create regional innovation ecosystems, which can help the business community renew itself. Cooperation between research and educational institutions and companies in generating and implementing new innovations is one of the key pillars of the strategy. It is also important to complement local know-how by working together with others. Partners can be found in one's own country or province, but increasingly in international networks.
Challenges to the spread of innovations and innovation activities in the Oulu Region include a lack of commercialization and funding expertise. Furthermore, people living in the region, especially a little further away from the growth center and the primary sphere of influence of higher education institutions, feel that the benefits of high research knowhow are not materialized sufficiently in the region. 92% of the region's businesses are micro-companies employing less than 10 people. Special attention must be paid to the expansion of growth companies. By increasing networking and information transfer, the region's position as a versatile hub for innovation is strengthened. The strategy of smart specialisation aims to prepare for the industrial transition and changes in business life. Preparedness for the change requires sector-specific measures, new innovations and innovation adoption. These actions are sector-specific.
Smart specialisation priorities in Oulu Region
The Oulu Region's smart specialisation strategy aims to promote, at the regional level, measures leading to and utilizing innovations that meet the challenges posed by digitalization, climate change and the energy transition. The strategy aims to actively disseminate innovations and innovation activities throughout the region and increase the regional economy and well-being. The strategy leads to cooperation by crossing industries and borders. The Oulu Region is an international, attractive and networked region, whose competitiveness is based on high know-how as well as renewable and sustainable industry.
1. Renewable and healthy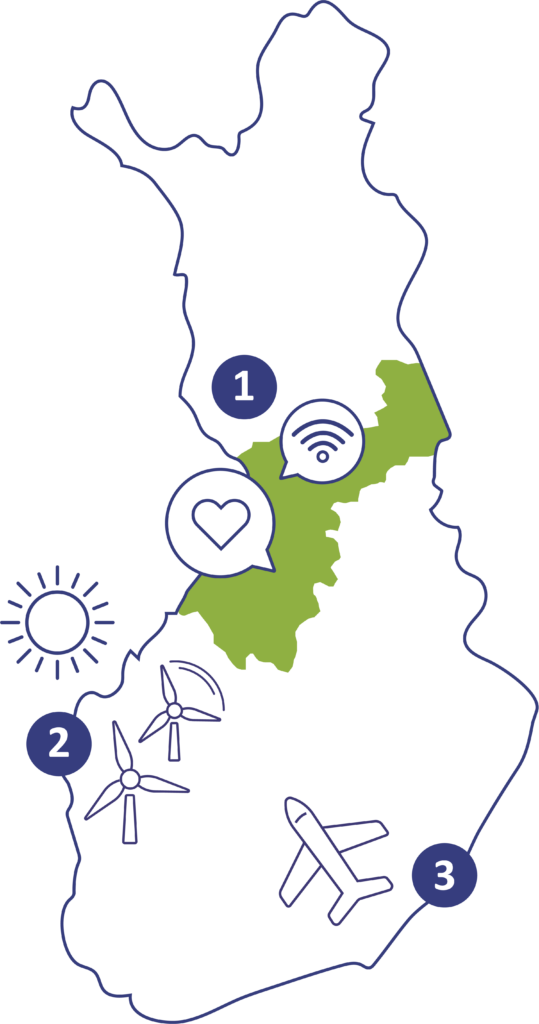 • Digital services and products
• Field of health and well-being
• Renewable and low-emission industry
2. Climate-smart
• Energy production and storage
• Sustainable construction, logistics and movement
• Innovative bio and circular economy
• Smart food production
3. International, attractive and networked
• An internationally competitive and interesting placement environment
• Networked innovation activity and strong ecosystems and RDI activity
• Innovative tourism
The smart specialisation strategy has been prepared as part of the project International and networking Oulu Region.

Oulu Region's Smart Specialisation Strategy 2021-2025.
Additional information:
Development manager Ms. Päivi Keisanen
Tel. +358 50 431 0605
e-mail: paivi.keisanen@pohjois-pohjanmaa.fi
Project Manager Ms. Saija Tikkanen
Tel. 040 685 4044
e-mail: saija.tikkanen@pohjois-pohjanmaa.fi
Development director Ms. Tiina Rajala
Tel. 040 685 4033
e-mail: tiina.rajala@pohjois-pohjanmaa.fi